SyncMES® meets all the needs of a plant's production chain control monitoring and reporting.
SyncMES® effectively integrates with other production systems, automation and ERP. Modern bus-based fault-tolerant data transfer ensures reliable communication between systems.
The software is fully scalable from a single-module solution to a factory-level or company-wide comprehensive management system. The system can also be used as a service based on remote data collection.
For the pulp industry, we have implemented an industry-specific MES solution called SyncPulp. Read more about it on the SyncPulp page.
MES – manufacturing execution system
Typical MES tasks include:
• work queue planning at work sites
• work queue control
• production recording and reporting for production and maintenance needs
• production monitoring, dashboard
• alarm management
By integrating SyncPlan® into production planning, you can remove the boundary between planning and control and boost the overall management.
SyncMES includes powerful reporting tools. Creating reports is easy and you can prepare reports to suit each need.
OEE – overall equipment effectiveness
A tool for continuous improvement of production.
SyncMES® OEE is an industry-independent tool for measuring, monitoring and continuously improving production effectiveness.
SyncMES® OEE produces a visual and dynamic snapshot that makes production performance visible to everyone in real time. Production effectiveness is measured and reported by calculating key performance indicators in accordance with the OEE principle.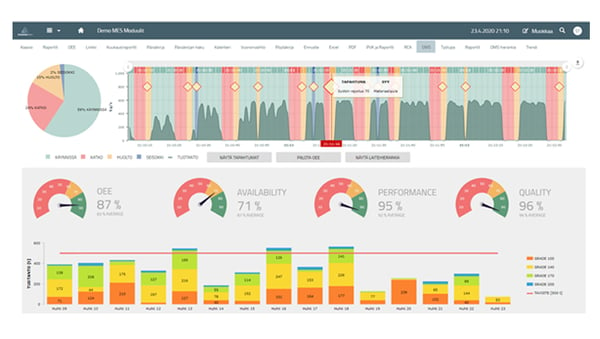 Day-to-day management modules
Our day-to-day management tools include Production Information Screens and the electronic Diary.