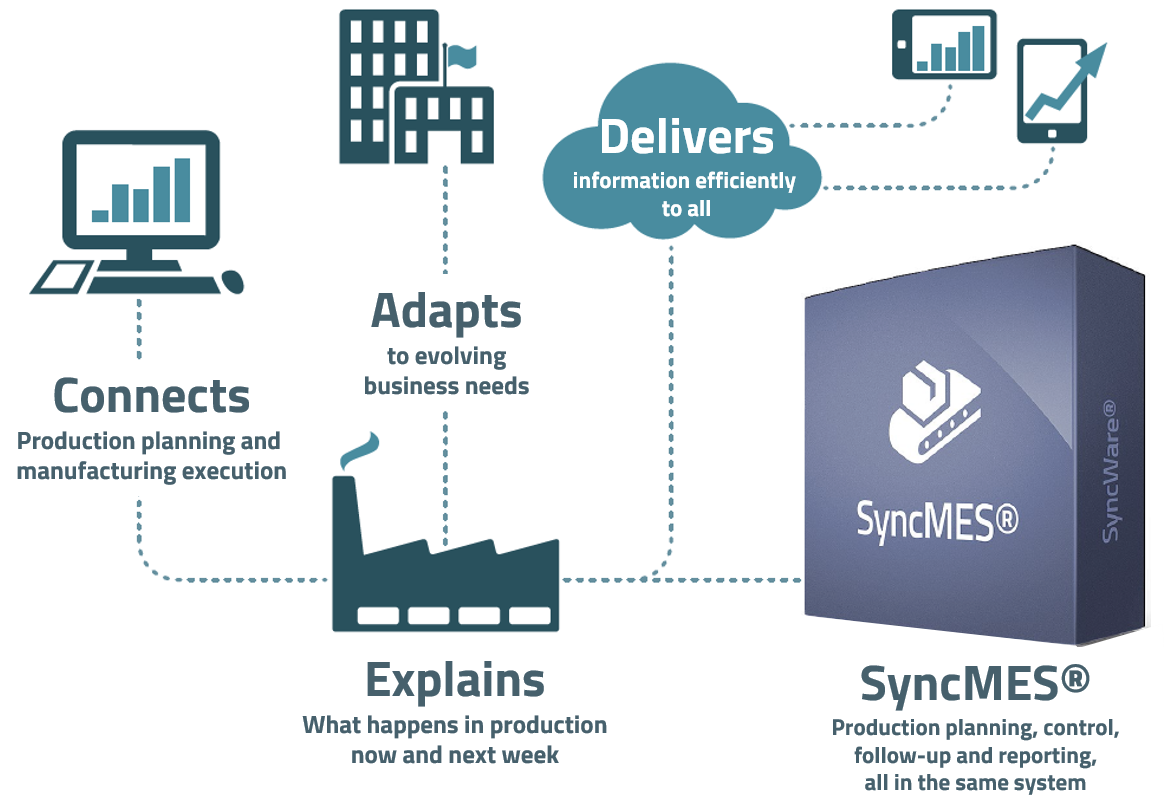 SyncMES® combines business information with measured process information. SyncMES® manages how production plans are executed and reports what and how much was produced.
SyncMES – functionalities
Production management
SyncMES includes easy-to-use tools for the management of production and production work orders. It can answer to questions: Which product or task is next in line? And after that? What will we make tomorrow – or next week?
SyncMES work queue management also allows you to change the order in production work order queue received from production planning. Changes may be required due to non-availability of raw materials, changed customer needs or malfunctions in production equipment.
In SyncMES, you can easily define which user groups are authorized to change production orders.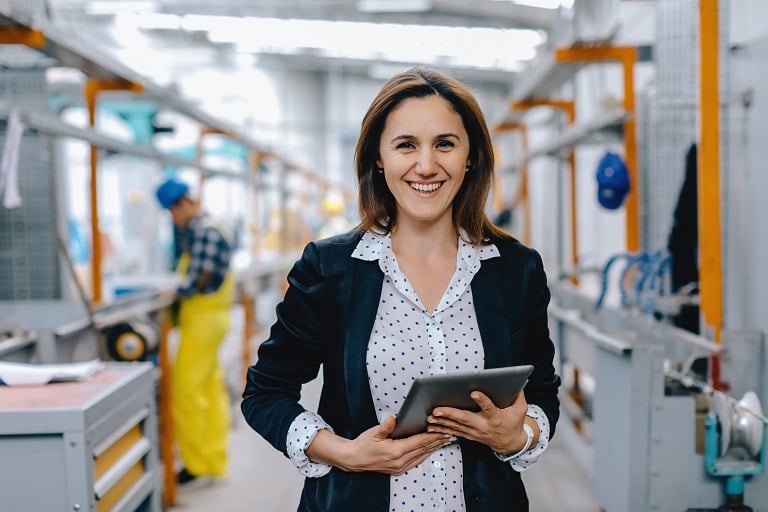 Production entries
SyncMES includes a variety of ways to record production events and data. Accurate recording of material consumption, for example, is essential to improve traceability and production efficiency. In SyncMES, you can record the materials consumption of a parts list/BOM or recipe based on:
actual measured values
standard consumption
manually entered values
Entries related to the progress of production, such as the start/end of production or information on the production stage or status, are easily made from the operator's user interface. Production outages and their causes can be entered either automatically as signals from the automation system or as inputs from the operators.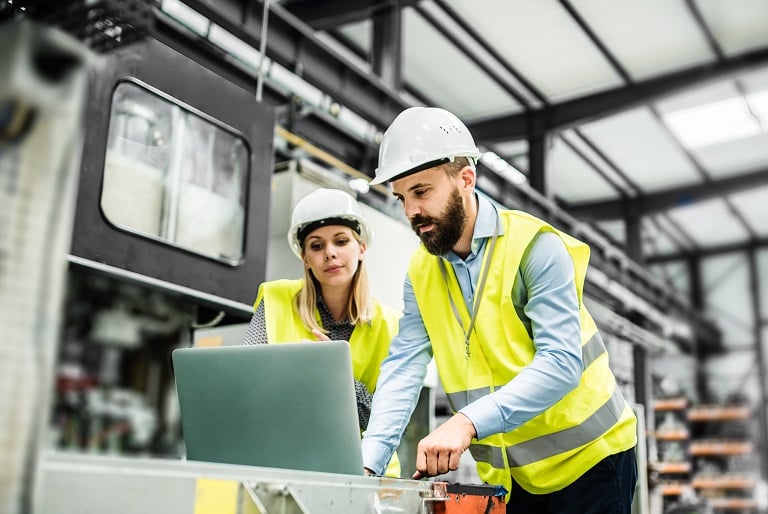 Work instructions
Up-to-date work instructions ensure the quality and smoothness of production and the work efficiency of operators. Work instructions can be saved in SyncMES and made available to operators when needed. Work instructions can be prepared:
on a per workstation basis
on a per product basis
on a per order basis.
Work instructions can be text documents (such as pdf files), images, drawings or other digital aids. Order-specific instructions can be stored in SyncMES or transmitted from the ERP system with the order.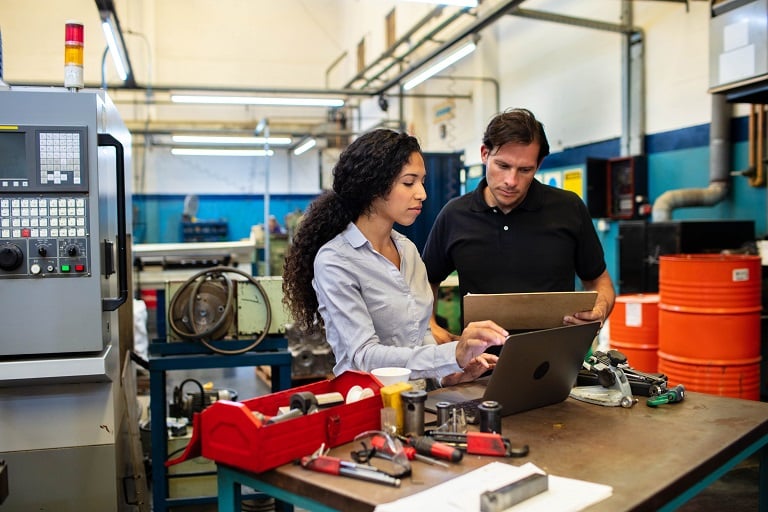 Material tracking
The SyncMES material tracking function keeps you informed about the manufacturing stage of a given product, batch or component at any given time. It also tells you the types and quantities of materials and raw materials committed to each production batch. Different types of production (assembly vs. batch processes, for example) have different needs.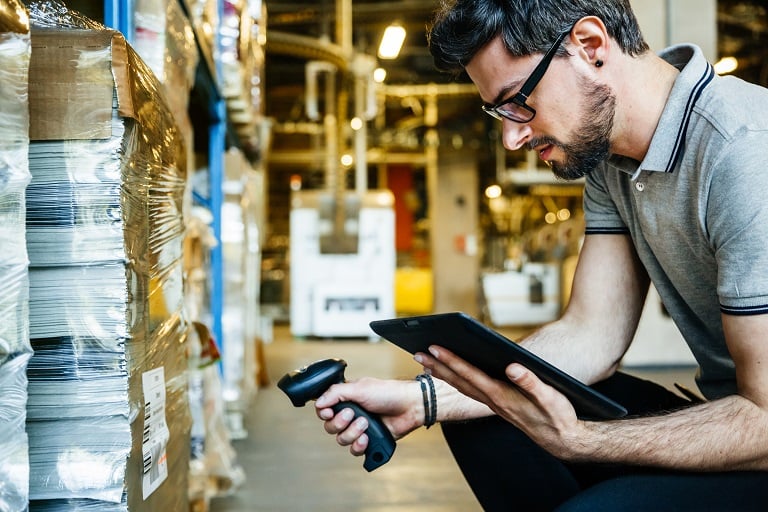 Production time tracking
With SyncMES, you can efficiently record production time and working hours. Events recorded include:
logging in and out of the workstation
who made the product
entry/acknowledgment of production stage or batch (traceability requirements)
production time used.
Various KPI data can be calculated from the recorded values. The production time used also affects the product's manufacturing costs and is the basis for the development work related to continuous improvement.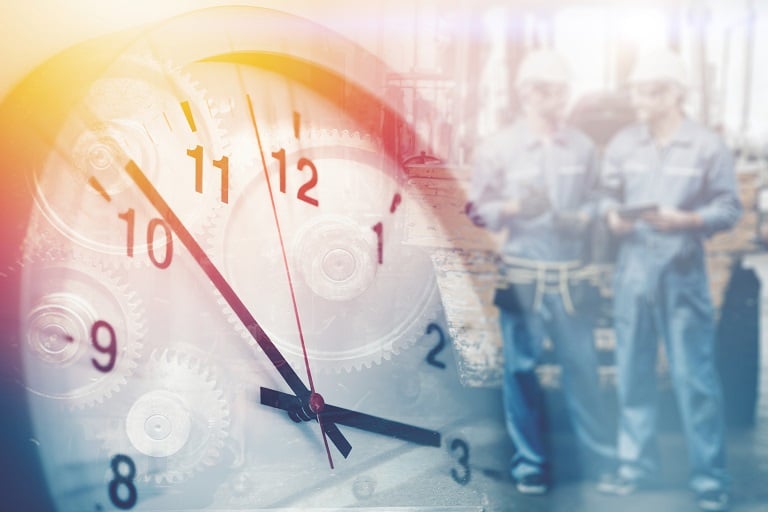 Quality management
SyncMES includes comprehensive tools for quality assurance and management purposes. Quality management supports, for example, the creation of product group specific quality plans and the definition of related control measures. Monitoring, alarms and reporting are easily configured. Data can be entered either manually or automatically.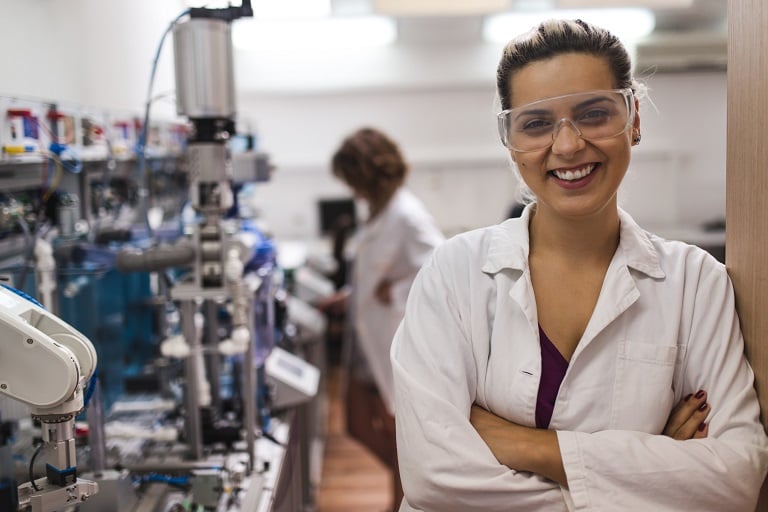 Run parameters for automation systems
A routine task for production operators is determining at which setpoints a product or production batch should be run. SyncMES helps in the selection and application of the optimal production run parameters. SyncMES can save production run parameters received from, for example, a product information system or an automation system.
SyncMES enables the desired run parameters to be transmitted to the automation system. The production run parameters can be set on a per order basis or on a per product basis. The feature also enables "best run" functionality, where the production run parameters appropriate for each production situation can be stored in SyncMES ready to be used in the next similar production situation.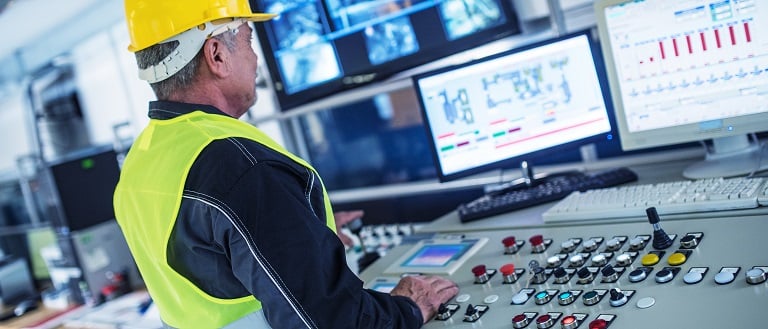 Inventories
SyncMES gives your a clear and up-to-date snapshot of inventories. It answers to questions like: What is the status of the inventories? Which raw material batch or material batch was consumed and how much, when the product or production batch was manufactured?
The inventory status information can be integrated with the ERP system, in which case ERP "tells" the inventory status and inventory items to MES. SyncMES "tells" production inventory transactions to ERP. Production consumption data and inventory data/transactions are an important factor from the point of view of both cost accounting and traceability requirements.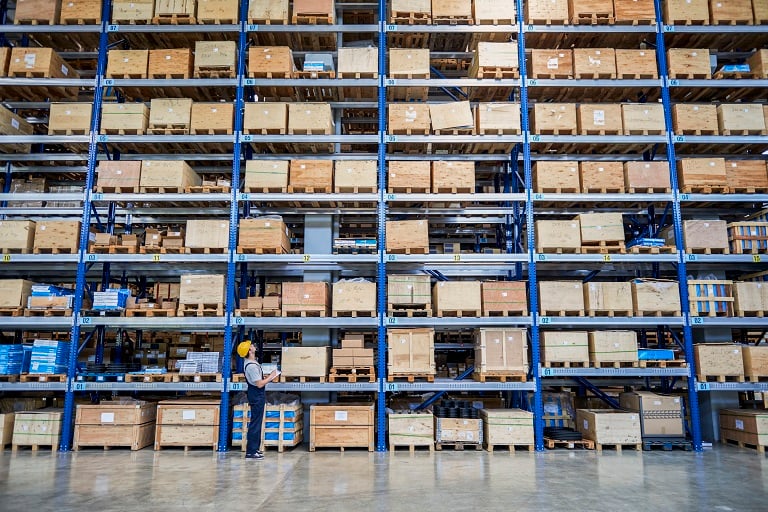 Visual production flow
In addition to numerical product and production data, SyncMES enables real-time visual tracking of many production events, or "production flow" monitoring. Monitoring screens with process diagrams can be prepared e.g. for:
material tracking
equipment status monitoring
improving the visibility of a production process.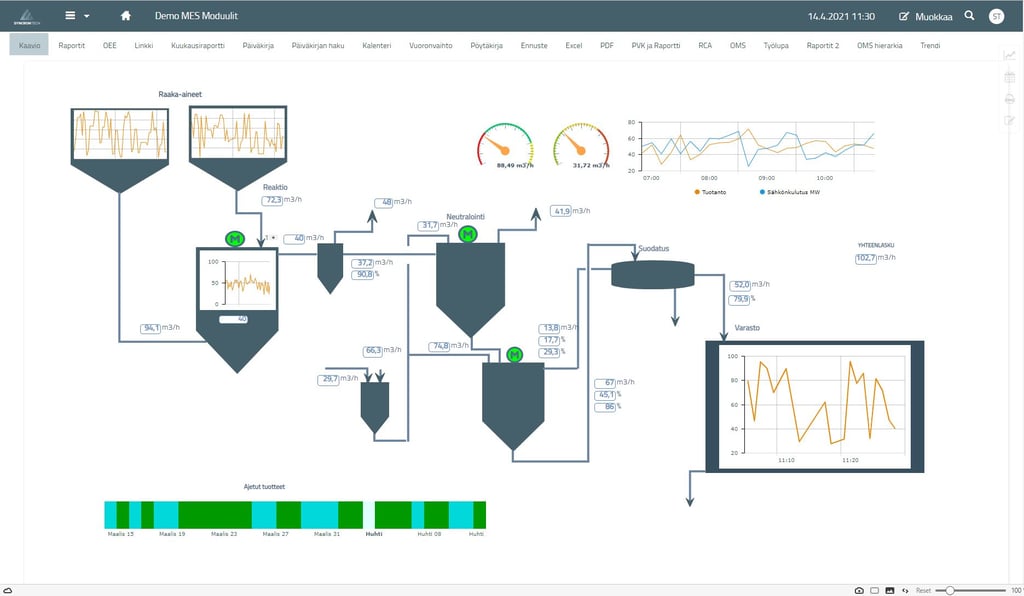 Alarms
SyncMES enables versatile distribution of alarms and information, for example on production disruptions. Alarm information for selected events can be sent to the operator's screen, the foreman's or shift manager's screen, to e-mail, or to a telephone as an SMS message.
Alarms can be assigned distribution lists so that information about production events can quickly reach everyone who needs the information. Alarms can be distributed via e-mail or as text messages in a mobile phone network.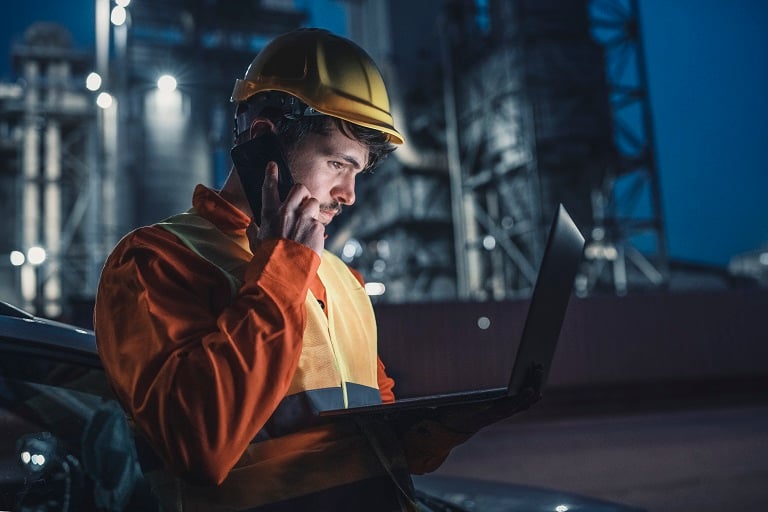 Production diary
The production diary is an electronic journal that facilitates the flow of information and makes it independent of the physical place, reduces wrong decisions in production, and improves job satisfaction and the production snapshot shared by all.
Typically, the diary is used by the entire staff:
production operators
production shift managers
production executives
HSEQ staff
maintenance staff
all who need information on production events.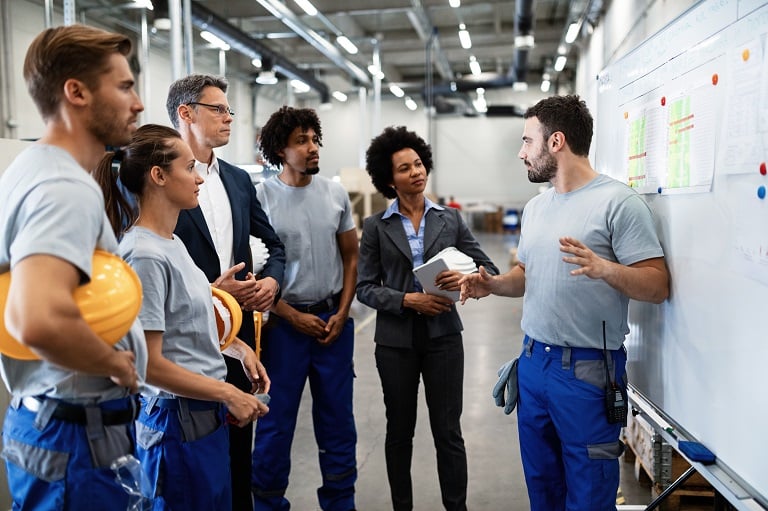 KPI screens
Indicators of production efficiency and development work are an essential part of modern industrial production. In SyncMES, you can have comprehensive KPI metrics to monitor the efficiency of various production functions. With SyncMES, the information provided by the metrics can be made available to a wide range of users and also to data users outside the production department.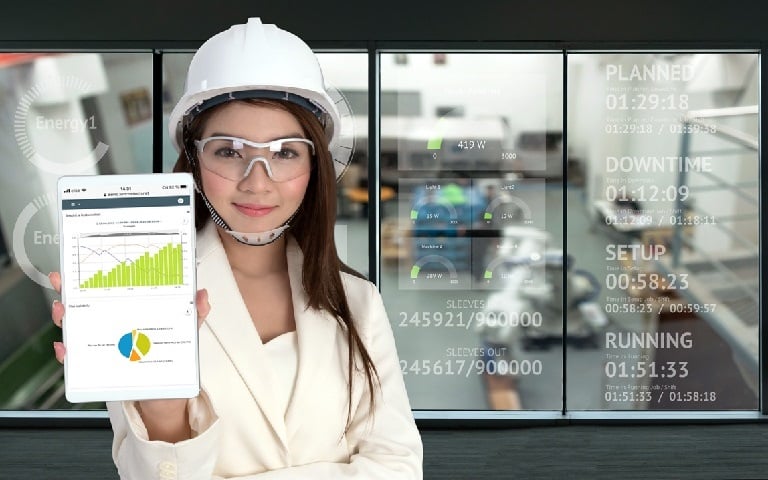 Production reporting
The reporting function in SyncMES offers several ways to distribute up-to-date production information to those who need it. Reporting formats include:
printouts,
pdf files,
e-mailed reports,
KPI screens and dashboards,
production reports distributed via the company's reporting tools (such as PowerBI, Qlik, Excel) with which SyncMES can "share" production data as reporting source material.
With the SyncMES report wizard tool, the user can edit and create reports without any programming skills. In addition, the system includes a quick report tool that can be used to make ad-hoc reports, for example in process development and troubleshooting situations in a drag-and-drop style.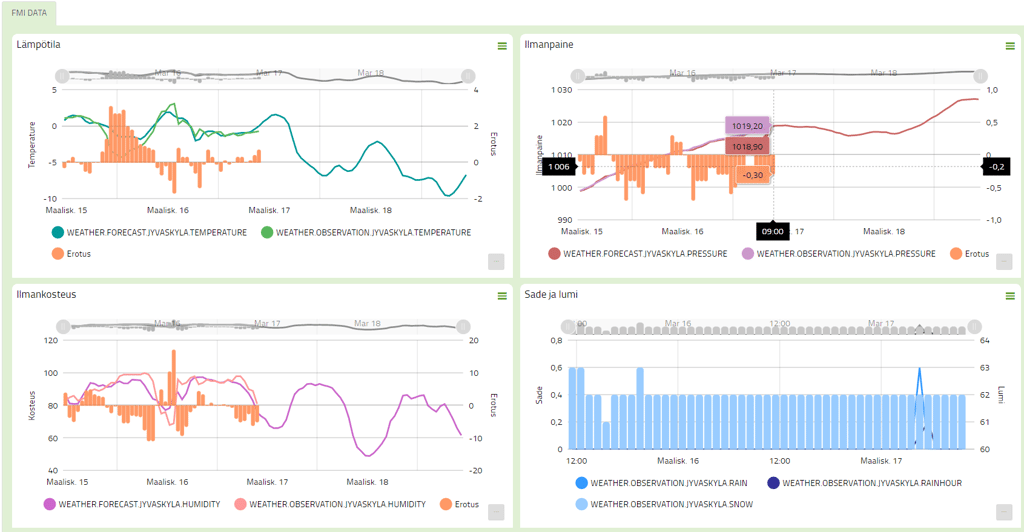 Overall equipment effectiveness, OEE
SyncMES OEE shows the overall equipment effectiveness in production with clear views. OEE monitoring can be extended to all equipment in the entire plant or to a selected subset, such as the most production-critical or high-volume equipment. In addition to OEE monitoring, you can have more detailed equipment effectiveness monitoring in SyncMES.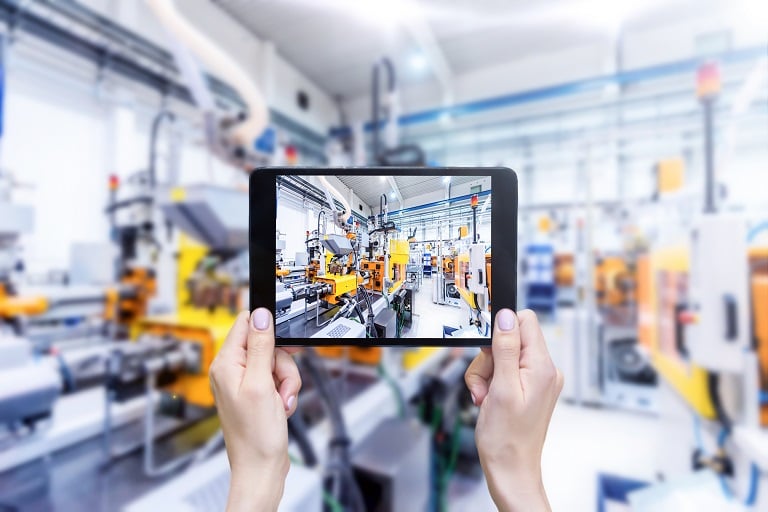 SyncMES and different types of production processes
SyncMES adapts to the needs of different production processes. The MES system controls the production process and collects information about what, how and how much was produced. Although the basic functions of MES systems remain constant, the focus and scope of system features are determined by the production process.
Manufacturing industry
In the manufacturing industry, product structure, order-specific requirements, manufacturing work instructions and material tracking are key. Production volume is often calculated in inventory units rather than as individual pieces made.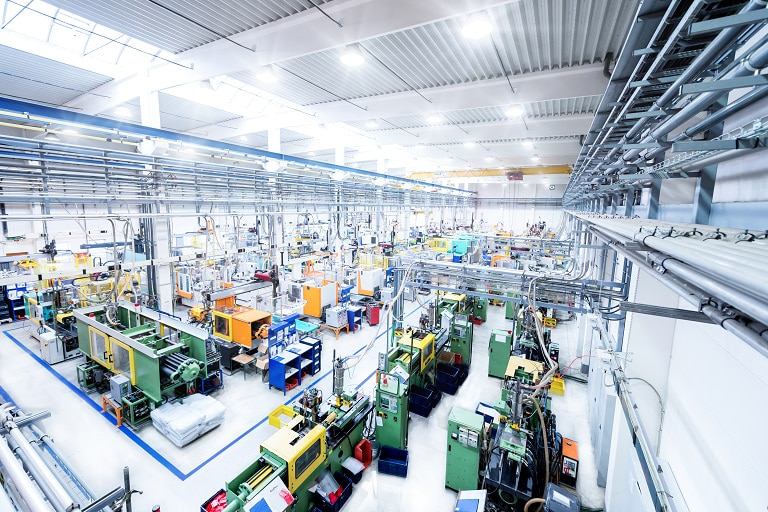 Process industry – continuous processes
In continuous production processes, the data often accumulates into MES time series: e.g. how many production tons were produced per hour/shift/week, what was the average pH of the process water? Materials do not always involve product structures, but quantities such as mass and energy balances can be calculated from production.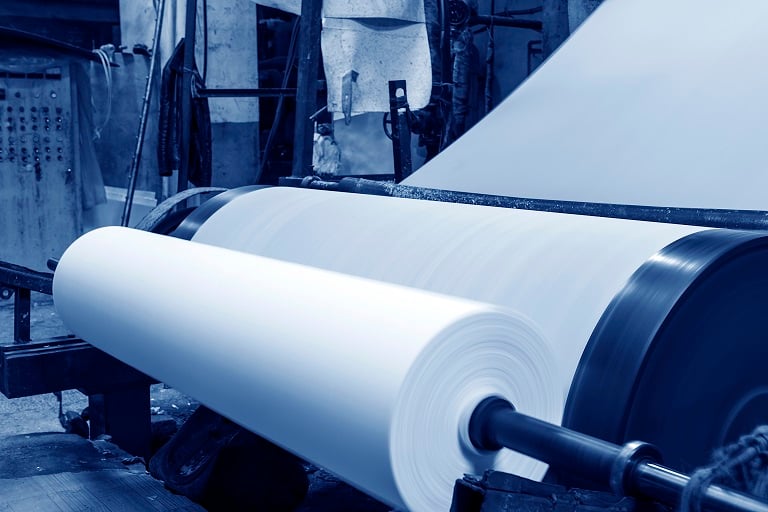 Process industry – batch processes
In batch production, monitoring is performed not only on a time basis but also on a batch number basis. Quality data and key figures are allocated to the production batch. The product structure is often replaced by a recipe.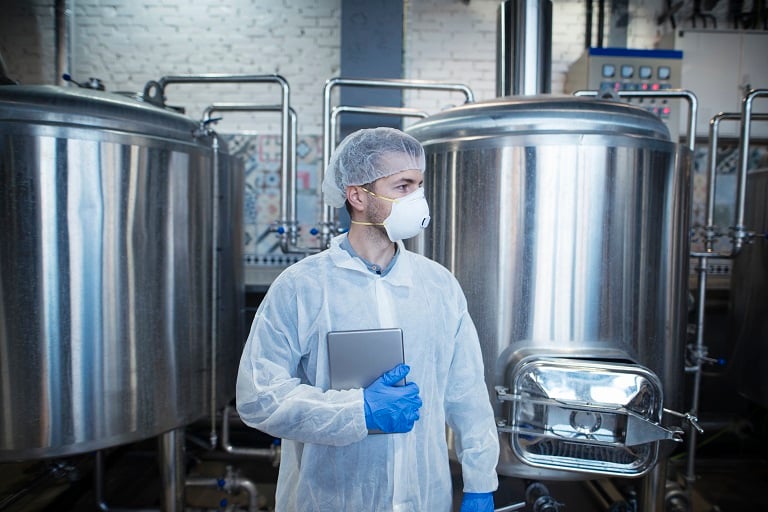 Assembly industry
In assembly production, planning, product structures and the availability of components are key. Essential factors to consider include measuring the performance of numerous consecutive or parallel work steps, as well as measuring and ensuring the quality of the assembly.
Flexible system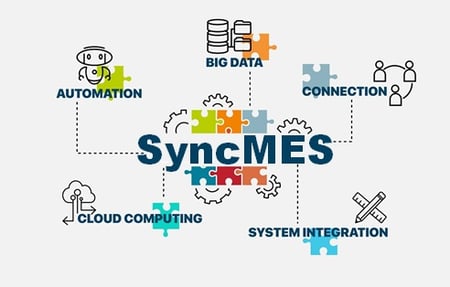 So, a single MES functionality cannot meet all needs – each type of production process has its own conditions. The product properties of SyncMES, translatable into parameters, facilitate solutions on a per case basis, adaptable to the requirements of each industry. This is even more important in processes where the type of production changes in the middle of the production flow, e.g. from a continuous process into a discontinuous manufacturing process.

Integration of production planning
Deciding on the connection between MES and production planning is an important choice to make. By integrating MES and design software that supports your production method in a single system you can eliminate yet another interface. At the same time, you eliminate delays in translating plans into production instructions. This is carried out by Syncron Tech's SyncMES and SyncPlan software. A single MES functionality does not fit all, but a good MES is flexible and versatile.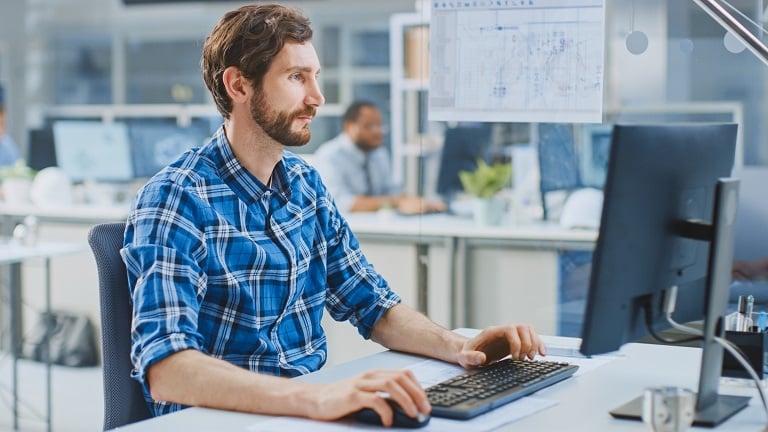 SyncMES technology
Integrated system
MES is seldom used as a stand-alone system. A typical solution is to place the MES system between the ERP and automation (DCS, PLC) systems. Sometimes the solution includes a separate product data management (PDM) system, a maintenance system, or a separate advanced planning and scheduling (APS) system.
MES systems are therefore required to have a high degree of integration capability. Interfaces to automation can often be built on the basis of standards. SyncMES supports several automation protocols, such as OPC, OPC UA, MQTT. The system also includes built-in system-specific interfaces for several automation manufacturers.
ERP interfaces require flexibility, which is normally provided by the MES. SyncMES supports an ERP-MES interface for systems such as SAP, D365 Business Central, IFS, and Visma Nova. The interfaces can be implemented using different protocols or file formats, such as REST/Json, web services, XML, BizTalk, MQSeries, sftp/ftp, Excel, csv and several others.
User interface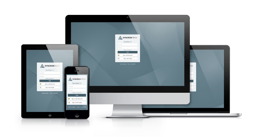 Scalability and a browser-based user interface are basic requirements, but they are also hallmarks of a future-proof architecture.
Delivery method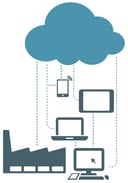 In addition to local information system delivery, SyncMES can also be delivered as software as a service (SaaS) cloud delivery designed for production-critical industrial environments. Our cloud-based service solution is designed to ensure the uninterrupted continuation of production in all situations. At the same time, you benefit from the ease and affordability of the cloud delivery.
Typical user groups of SyncMES
The system has a flexible user management method. Users are assigned roles that define the users' access and permissions to directories, displays, reports, and variables. In other words, users can be prevented from seeing certain things on their screen that are outside their role. Or, to use a more positive wording: the user's attention is not burdened with information that they do not need in their role.
SyncMES allows you to carry out the implementation of production plans on time. It combines business data from orders and tracks completion all the way to packaging and labeling if required. At the same time, quantities and quality are measured and various other entries are made and allocated to the product or manufacturing process.
The information produced by SyncMES can thus be used by almost anybody involved in the production at the plant: the plant manager, the production management and designers, the supervisors and operators, customer service representatives and those involved in the quality processes. Maintenance staff may also be one significant user group. The IT department supports and monitors the operation of the system. After all, it is at the heart of production data, and there are a lot of critical interfaces.
Plant and production managers
The general and customizable dashboards can be used to monitor entities in real time and zoom in on details as needed. The MES system can also be used on the factory floor to intervene in the work queues, e.g. when an anomaly needs to be solved. An integrated MES system allows production planners to obtain a real-time snapshot of production.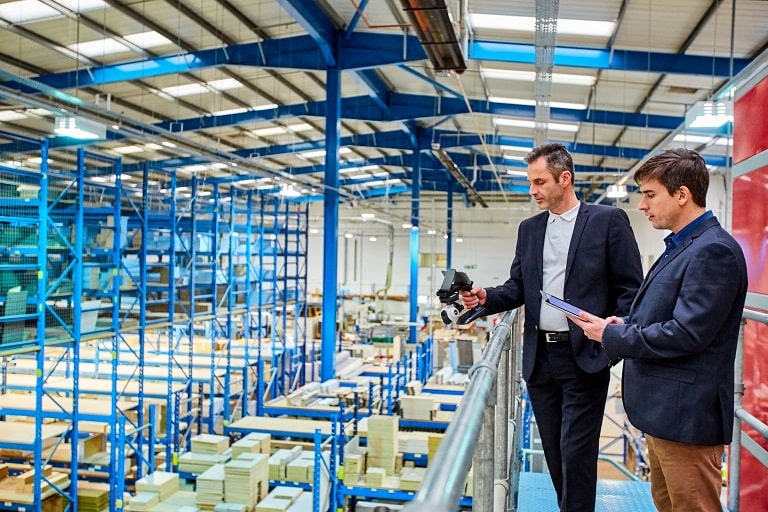 Production planners
Production designers have their own separate screens to perform their tasks. However, the integrated MES system can provide them with real-time feedback on the progress of production on the factory floor and the stage of the delivery of orders. They also receive information from the MES on the adequacy of stocks and materials.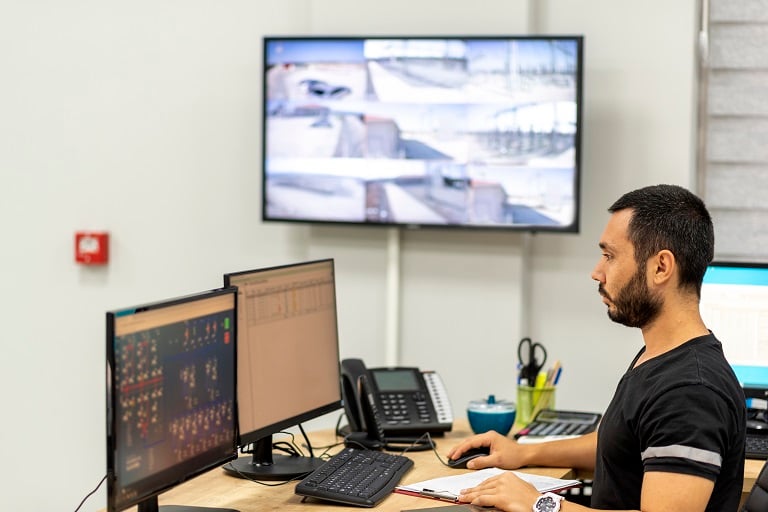 Operators
For the operators responsible for the practical operation of production at the plant, the most important MES tasks are managing the planned work queues at their workstations. On their MES displays, they acknowledge production batches as completed, track yield and material consumption, and are able to make observations and entries and allocate them to production batches.
Operators and maintenance personnel also use the diary tools, which are part of day-to-day management tools, to transmit and collect information for business development.
Mobile devices have accelerated the disappearance of boundaries between operators and maintenance staff in the collection of information related to production and equipment status.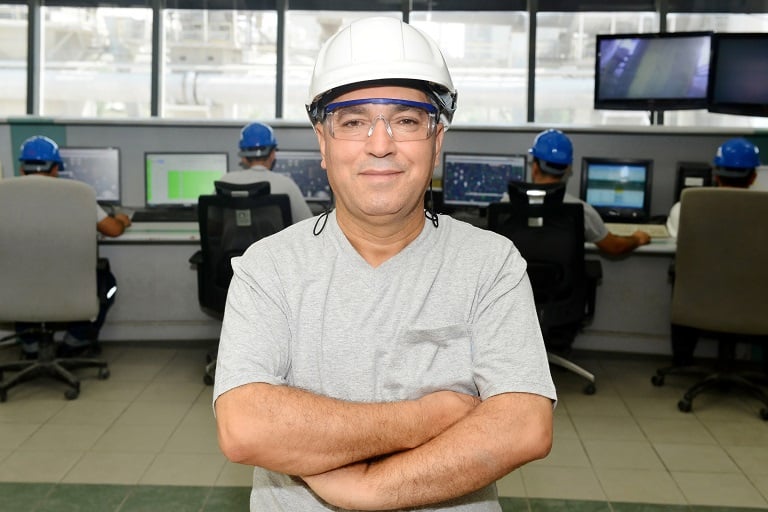 Maintenance personnel
Maintenance personnel can track the development of key figures from dashboards designed specifically for their needs. The standard setup includes, for example, the management of unplanned and planned outages and maintenance entries made jointly with operators.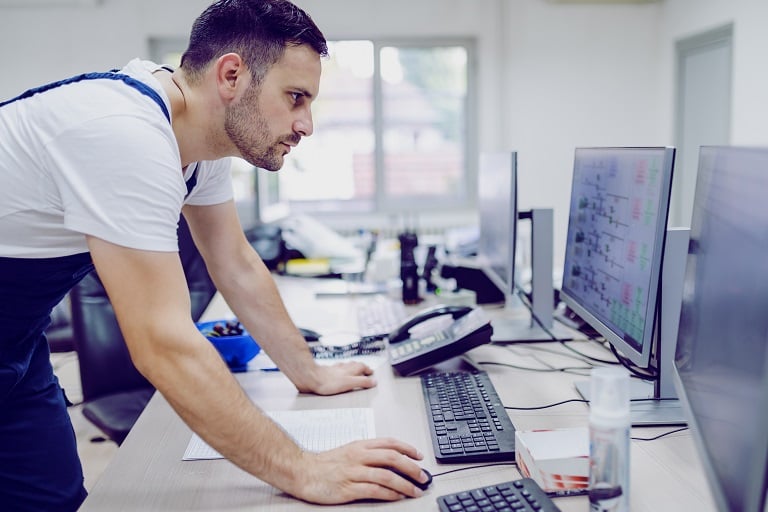 IT
The MES system combines business data with measured process data. A wide range of interfaces requiring IT expertise are needed for ERP, APS, DCS, PIMS, IoT and possibly other systems, such as reporting and energy management. These systems and devices have a very high availability requirement.
Acquiring systems as a service is becoming increasingly popular, with the supplier taking care of the system's hardware, security and updates.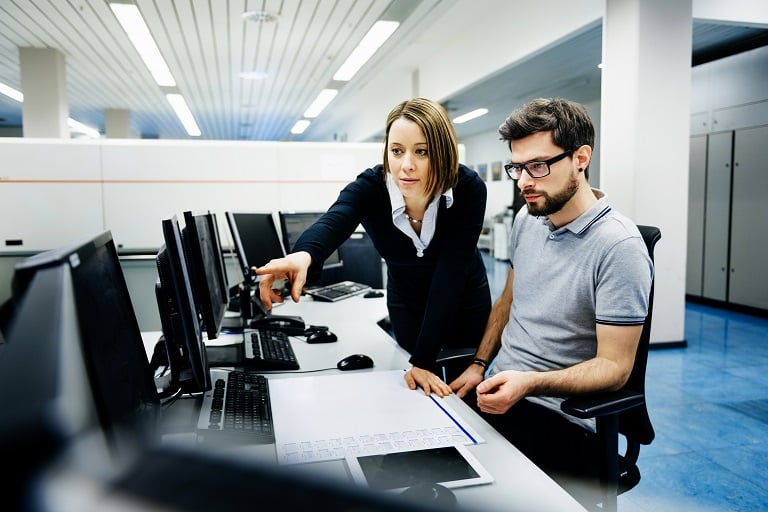 Day-to-day management modules
Our day-to-day management tools include Production Information Screens and the electronic Diary.