Comprehensive production planning
SyncPlan® is a production planning system that can be used for a variety of planning tasks, from traditional rough-cut capacity planning (RCCP) and advanced planning and scheduling (APS) to refinements based on deviations and changes on the factory floor.
Planning can include production batches, material usage (recipes), the performance and availability of production machines and lines, quality and efficiency planning or optimization, as well as the availability and competence of human resources.
System integrations, ERP, MES
SyncPlan® is often integrated to an enterprise resource planning (ERP) system to get the initial data (master data/order data), as well as to a manufacturing execution system (MES).
Visual and easy to use
SyncPlan® is designed to be a powerful and visual tool which is easy to use. The software platform is scalable for large amounts of data. The tool is flexible and adapts to the needs of users. All relevant information in one view.
A modular system
SyncPlan® modules are flexibly selectable as needed: implementation can start from a production planner's visualization tool and grow as needed to cover the comprehensive planning and automatic optimization for an entire plant. With SyncPlan, you can move from Excel-based planning to a genuine production planning system.
APS – advanced planning and scheduling
SyncPlan® APS - advanced planning and scheduling.
With SyncPlan APS, you can take full advantage of your plant's capacity. It is a visual and easy-to-use tool that accelerates your production planning process.
You can let the system make the plans automatically or you can manually adjust the plans and compare different scenarios. The graphical user interface shows the future plans, the present and a brief history.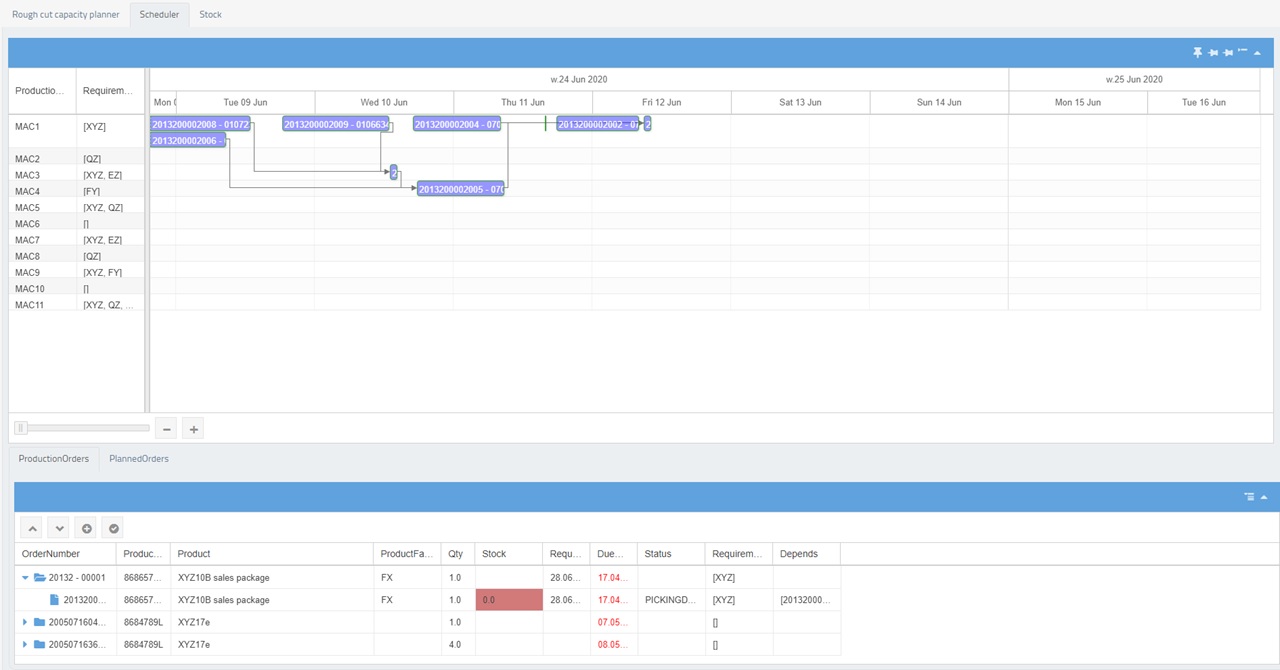 RCCP – rough-cut capacity planning
SyncPlan® includes a rough-cut capacity planning (RCCP) module.
The system supports longer-term sales order level planning, taking into account material availability and calculating the loads of planned items. If necessary, sales forecasts are also taken into account.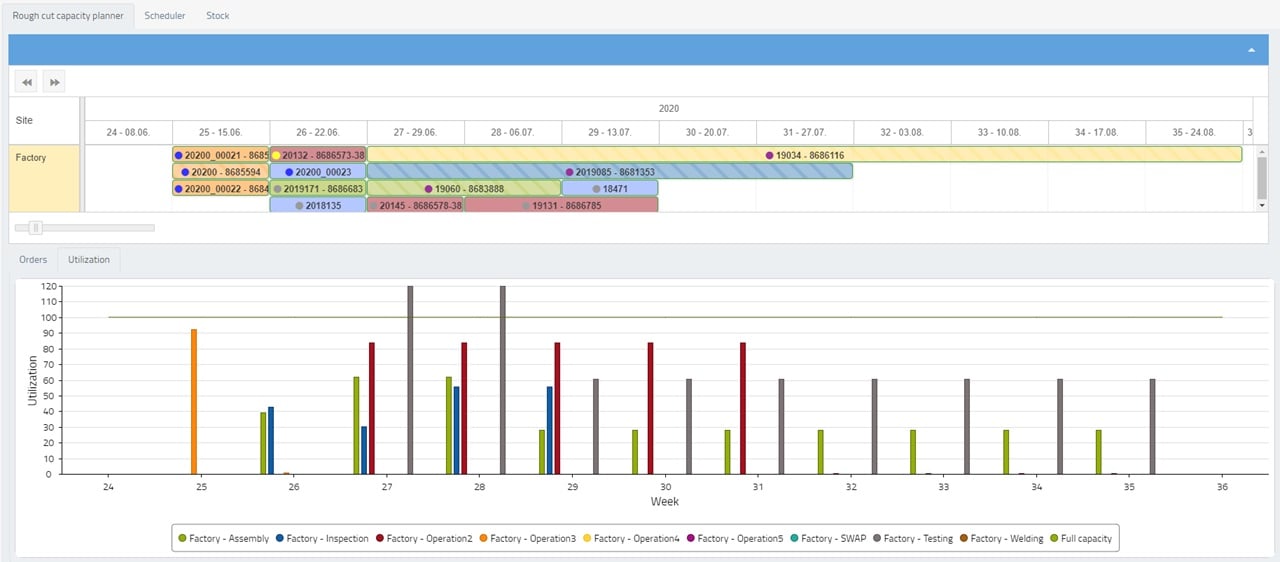 Human resources planning
The SyncPlan® resource planning module takes into account the availability and competencies of human resources as part of production planning.


The capacity of production equipment is a natural timing parameter. Traditionally, equipment and teams are assumed to have a consistent level of performance, but this is often not the case. There can be large variations in the effectiveness of teams and shifts.
New products may be constantly introduced into production, or making them may require special skills, in which case it is important to take personal skills and competencies into account.
The planner needs a visual tool that takes into account the constraints related to the production equipment, material availability and personnel, all at the same time. This makes it easy to spot production bottlenecks. The user interface supports drag-and-drop style planning.
Real-time feedback on production, supported by automatic or manual acknowledgments, helps to prepare for various anomalies immediately in the best possible way.
The same module can be used for shift planning. Master data for individuals' competencies and shift lists is easy to manage with convenient configuration views.